Skip to Content
Titanium Vs. Ceramic Dental Implants
Ceramic Implant Dentist in Scottsdale, AZ
Titanium Vs. Ceramic Dental Implants 
If you're looking for a titanium or ceramic implant dentist, look no further than S&C Dental in Scottsdale, AZ. For years, our highly experienced team has provided patients with premier dental implant services. Please keep reading to learn more about titanium and ceramic dental implant solutions, their benefits, and which option might be best for you and your unique needs.
What Are The Different Types of Dental Implants?
While most dental implants are made from titanium, more and more have started being made from ceramic. However, there are two main types. These include the following:
Endosteal Implants – This type of dental implant is the most common. It is shaped like a small screw and goes into the jawbone. It holds one or more replacement teeth. If you already have dentures or bridges, it's likely that you'll be recommended for endosteal implants.
Subperiosteal Implants – This type of dental implant is a metal post that is placed on or above the jawbone. It's placed under the gums and will stick through them to hold the tooth replacement. These are recommended when the patient doesn't have enough natural jawbone for an endosteal implant.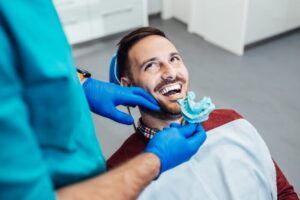 What Are Ceramic Dental Implants?
Ceramic dental implants are practically identical to titanium dental implants, except they are made from a ceramic substance. These glass-like implants contain no metal and are hugely advantageous for those with metal allergies or who prefer non-metallic implants.
The Dental Implant Process Step By Step
The dental implant process involves the initial implant placement and the integration of permanent artificial teeth onto the implants. Here's a look at the dental implant process step by step:
During the initial procedure, the dentist will numb the area, create an incision in the gums to expose the jawbone and drill a hole into the bone.
The implant post is inserted and soundly secured into the bone. An x-ray is taken in order to evaluate the post's placement.
The dentist will place a temporary crown to protect the implant and provide you with an aesthetic preview of the final results.
During your healing and recovery period, we will develop a permanent crown in the lab that perfectly matches the fit and appearance of the rest of your teeth.
Once the area has adequately healed and has ample time to fuse to the bone, the dentist will replace the temporary crown with a permanent, custom-made tooth.
What Are Metal-Free Dental Implants?
Metal-free dental implants are a popular alternative to traditional metal-based dental implant solutions. Compromised of a biocompatible material called zirconia, these implants provide patients superior strength, durability, aesthetics, and long-lasting results. Made from a strong material that provides support for the restoration, you won't have to worry about the longevity and lifespan of these implants. These implants are also free from corrosion or discoloration, unlike metal-based implants.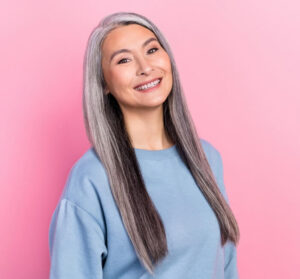 The Benefits of Metal-Free Dental Implants
There are numerous benefits when it comes to metal-free dental implants. Below, we've detailed the top three benefits, which are allergy prevention, reduced infection risk, and a natural appearance:
Allergy Prevention– Patients with metal allergies won't have to worry about metal-free dental implants. There's also less risk for tooth tissue damage, which is possible with implants whether or not you have an allergy. Metal-free dental implants cause less of this than metal implants.
Reduced Infection Risk – Most people about to undergo the dental implant procedure are concerned about the risk of infection. With metal-free implants, this risk is reduced.
Natural Appearance – If you're someone with thinning gums, metal-free dental implants can help give you a more natural appearance. These implants integrate effectively into the bone.
Contact Our Team Today to Learn More
When you Google "ceramic dental implants near me," you'll likely have more than one option to choose from, but we hope you'll decide on S&C Dental. Metal and metal-free dental implants are valuable and effective solutions for missing teeth. Both options can help stimulate the jaw bone, protect against bone loss and deterioration, and restore form and function to the mouth after tooth loss. Additionally, both metal and metal-free dental implants are long-lasting solutions. Contact us today to learn more about titanium and ceramic dental implants and which is right for you.